Luraco iRobotics 7 Medical Massage Chair
The medical massage chair is imported which researched, assembled from the USA and made by the Luraco Technologies.This massage chair is high-end chair means it is highly expensive as it provides a number of innovative features. Luraco iRobotics 7 provides excellent lower back and neck massage methods. It includes technologically advanced smart touch remote control. There are three different types of components are available in this chair such as rollers, airbags, and heat to get a massage for the beginners. The rollers include are provided dual massage, the rollers are run on S-track of your neck and the top portion of the shoulder allows you to get an entire back massage. These dual rollers are run on 3D system means you can manage the intensity according to yourself. There are mechanical rollers are included in the foot area to get zone therapy treatment. This massage chair is equipped with 100 airbags that help to get a massage or that inflate and deflate to massage different areas of your body.
Osaki OS-4000 Zero Gravity Executive Fully Body Massage Chair
This Osaki full body massage chair has a number of fantastic features. This massage chair constructs with new technology. It consists of standard polyurethane covering improve stability, durability and offers extreme comfort. It has six pre-set programs, large touchscreen LCD wireless remote allows you to select the massage type, intensity, speed and position, rollers are used to foot massaging, airbags are provided whole body massage and heating pads are on the lower lumbar area. It has two stage zero-gravity positioning approved by the NASA, seat vibration massage and auto leg scan technology. This Osaki full body massage chair is also very expensive because it has outstanding features. This chair offers different professional colors such as black, brown, and charcoal.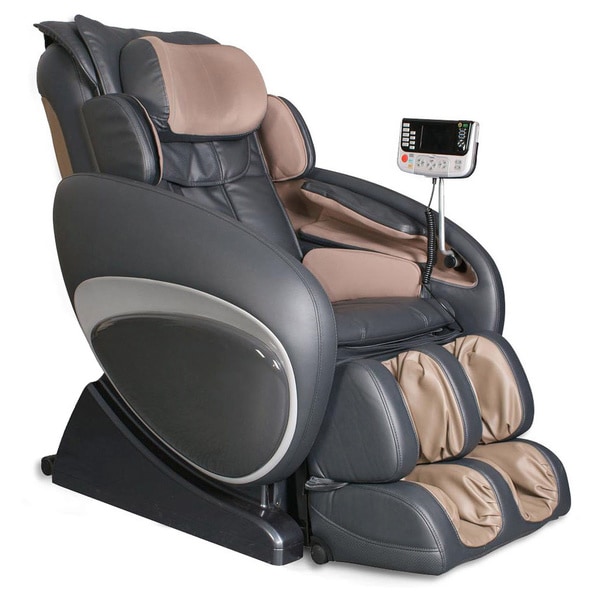 LM-7800 Track Shiatsu Kahuna Massage Chair
This massage chair is mid-end massage chair means it is slightly expensive but not expensive as the previous model. Chair is made up of metals, synthetic leather, plastic material having electronic components.This massage chair has great features.This massage chair comes with the rollers on the sole of foot part hence you can enjoy the comfortable foot massage. The rollers are run on 2D system. And this is perfect when you suffer from a tight and painful lower back. It included three components rollers, airbags, and heat. And this chair has best zero-gravity options contributes four different positions so that you can turn on the position as you wish. An advanced LCD remote control is included in the massage kit to display the information about time, massage strength, speed, and roller position. The entire chair consists of 36 airbags offers a full body massage. The Kahuna massage chair available in four different colors such as black wg, black, ivory and ivory wg.
Space-Saving Zero-Gravity Full-Body LM6800 Kahuna Massage Chair
This massage chair is also manufactured by the Kahuna massage chair. This massage chair is low-end massage chair means it cheap as compare to both previous models. It is uniquely designed for yoga and heating therapy. The Kahuna massage chair also has three distinct elements for massage concurrently that are rollers, airbags, and heat. It has dual rollers included in foot area for good foot massage and they work on 2D system. This zero-gravity full body has attractive features. Quad rollers are also included which run on an L-track from your neck right down to your thighs area. Yoga stretching program great for stretching out your spine to relieve tension. Heat options are included in the lumbar region permits muscles to relax. The entire chair consists of 25 airbags helps to massage your whole body nicely. This space-saving zero-gravity massage chair has three zero gravity settings, specific body scanner, LCD remote control. It is approved by FDA.


Human Touch WholeBody 7.1 Massage Chair
This Wholebody 7.1 massage chair is an outstanding performance massage chair manufactured by the Human Touch. Wholebody 7.1 massage chair has a unique design but still provides the full body massage, hence it is known as 'WholeBody Massage Chair'. This chair is one of the cheapest chair among all the previous models. It includes five auto-massage programs for ache-relief, stress relaxation and physical therapy. This five auto-massage are full back, upper back, lower back, relax and sleep. It has heat modules in the lumbar region, dual-motors helps to independent back adjustment and a specific patented warm air technology that provides relief from shoulders to lower back. This wholebody 7.1 massage chair is available in three distinct shades such as black, bone and espresso. This human touch wholebody 7.1 massage chair has good reviews by the Amazon reviewers like great work for lower back pain, fantastic chair.